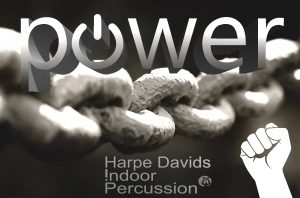 Met trots presenteert Harpe davids Indoor Percussion (H!P) het thema voor 2017:
Thema H!P 2017  "POWER"
THE GREATER THE POWER, THE MORE DANGEROUS THE ABUSE
WHEN THE POWER OF LOVE OVERCOMES THE LOVE OF POWER
THE WORLD WILL LIVE IN PEACE
Het thema van H!P 2017 draait om power, oftewel kracht en macht
In de afgelopen eeuwen waren er dictators, wereldleiders en gekken die ten koste van het gewone volk ten strijde trokken in oorlogen en zo hun macht wilden vergroten.
De onderdrukkers voelden zich machtig en misbruikten hun macht maar vergaten wie de echte macht bezat. De kracht van het volk is meerdere malen onderschat.
Wie heeft de macht? Who's got the power?
Gebruikte muziek, gearrangeerd door Bill Holden:
• Opener STAR WARS – The Force Awakens Trailer
• Star Wars – Imperial march
• I´VE GOT THE POWER – SNAP
• THE HUNGER GAMES
• THE POWER OF LOVE – FRANKIE GOES TO HOLLYWOOD (VERSION OF GABRIELLE APLIN)